Say hello to my lil' friend....
I LOVE giving handmade gifts. It started about 4 or 5 years ago when I learned to crochet just so I could make all the girls in my family hat sets for Christmas. I studied YouTube like mad perfecting my chain stitch and single crochet, and felt all fancy when I could do a double. It took me hours to finish a hat and flower but, the hand cramps were worth it when I saw the finished product I lovingly made with my own two hands.
Learning to sew...same thing. YOUTUBE baby! A little of my instruction manual that came with my machine and, a lot of trial and error. I'm by no means a master seamstress and, my seam ripper and I have a wonderful partnership but, the immediate gratification that comes from turning fabric into "something" is fabulous!
I am a Jack of all trades master at none but, I enjoy teaching myself new things. Learning is limitless and the ability to diy is priceless. I covet boutiquey loveliness but, not the price tag that comes along with it. So, I find inspiration and learn how to do it myself. Now...I'm hooked. I feel like I've cheated a recipient if I just buy something off a shelf. Don't get me wrong. In the mad dash of...It's 20 minutes till the party and I haven't bought a present. Don't you know I'm screeching into Walgreen's looking for whatever "kiddy" litter I can find to suffice for an acceptable gift...pairing it with a pretty bag and, stuffing in some tissue paper knowing good and well I've just wasted $15 cause that play-doh set is going in the trash in a month. So when time is there...I create.
A nieces birthday this weekend was the perfect opportunity to hone in on my handmade giftin' skills. She's entering kindergarten and I knew pretties for her hair were just what she needed.
This one is my favorite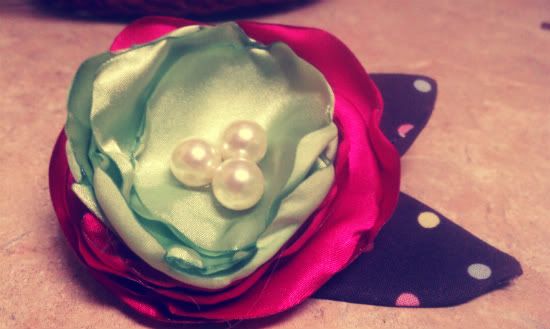 Followed by a close second
and, my new obsession with pinterest has me all in love with cute wrapping. There is something special about getting a pretty wrapped gift. It has the ability to somehow increase the contents value ten fold...not to mention the excitement one gets from ripping paper and tape and bows off a box in anticipation of what's inside.
(who knew cupcake liners and headbands had so many possibilities?)
My neighbor's daughter is turning 14 today so I made her these flower hair pins and matching rings.
I love them!
(I'm making some for myself later this week) and, MAYBE if I can scrounge some more time I will attempt to put some in my sad, lonely, neglected,
shop
.
I hope she likes them.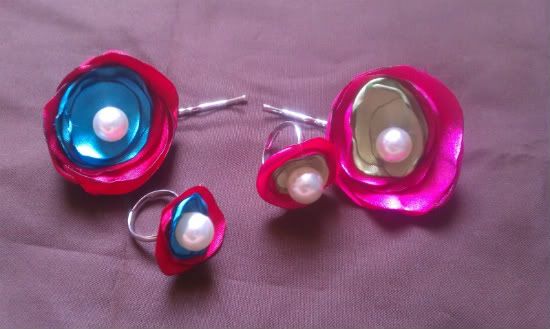 I also tried out some new recipes for a fish fry we had this weekend and I have to share.
Bacon Coleslaw (this is seriously yummy):
Recipe:
Stir together...
1/2 c of mayonnaise ( use a little less or more to suit your taste...i prefer less)
1 tbs. apple cider vinegar
1 tbs. sugar ( again, adjust to your taste...i like mine a little sweeter)
salt and pepper to taste
add to a bag of coleslaw mix ( i found this Manns rainbow salad)
add in 6 slices of bacon, crisply cooked, drained and crumbled.
Enjoy.
But, do so quickly or it will be gone :)
Strawberry Limeade Cupcakes
I've become and icing snob. Ever since I've started making my own the canned stuff tastes so yuck and, it's so cheap and easy to make it yourself.
Cake from scratch? No time. Maybe someday. Or, maybe we'll leave it to the dough boy...he knows what he's doing.
I love this moist supreme strawberry cake from Pillsbury.
Lime cream cheese butter cream frosting:
1 stick of softened butter (warning: keep out of baby's reach...if you look closely she snuck a bite)
1 8oz cream cheese softened
juice from two small limes(add more if you want more "limeade")
1 lb of powdered sugar
1 tsp. of vanilla(i was out...no bueno)
cream together and swirl on top of cooled cupcakes.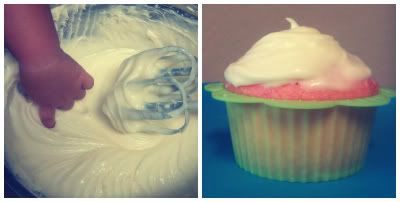 Enjoy!