I can't believe I'm going to have a kindergartner and a second grader this year! The fleeting time inspires me even more to stop and drink in every minute of their childhoods, to remember every tiny detail of their littleness, and to slow down. This week has been filled with lots of shopping, and carefully sizing miniature feet for brown Mary Jane's and black sparkly ballet flats while scouring racks upon racks of clothes for the most stylish outfits(
and best deals
).
When they say kids are expensive they should specify..."school aged children", because babies are a piece of cake. I nursed mine so no formula. I wasn't a diaper snob so whatever was on sale worked for me. Chances are someone had hand me downs they were happy to pass on to us, and I had a shower to stock up on baby necessities.
There should be back to school showers decked out with apple bunting and pencil centerpieces. (maybe something like
this
or
this
) I'll serve school bus cake and little protractor sandwiches and you bring school supplies and clothes and shoes and backpacks and lunch boxes and...
you get the picture
.
Thank goodness "I've trained up my girls in the way they should go" and they love to shop. (
even if it means taking a much needed break in the middle of Gap to lay on the floor
)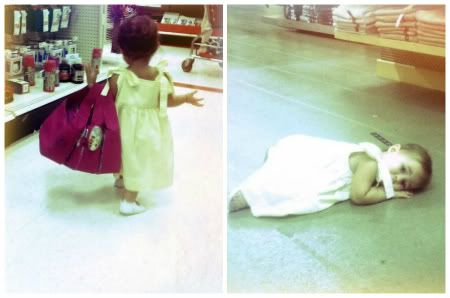 But, I can proudly say we are officially done.(
minus a rockin' backpack I'm coveting from
pottery barn
) I'm not going to be the Mom this year scrounging for pocket folders with brads, or glue sticks.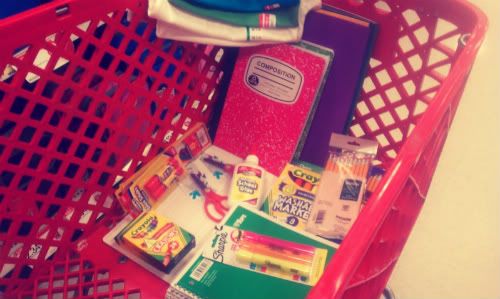 And, while we are on the subject of school supplies let me just say that I'm not a big fan of the "
community
" thing. If I spend forty bucks on supplies for my kiddo I expect
my
kiddo to use them. I was not thrilled the first day of first grade when Alyssa came home with an old red folder with
another
child's name scratched out with a black sharpie to be used as her take home folder for the year. Or, that at the end of the year when she was allowed to take "
her
" school supplies home her teacher dug in her closet for (
according to Alyssa
) old markers. She ended up with every brand imaginable and 4 blues, a couple browns and... seriously? I'm all for sharing and donating, and I'm the first one to rip a sticky off the teacher wish list, but if we spend the time picking out colors, buying "the good stuff", and using
pretty name labels
...gosh darn it we should be able to use our own stuff!
***Just sayin'***
I'll leave you with a fashion show. They begged me to try stuff on and strut down the hallway while I snapped "sassy pictures".
(mind you the hallway has no natural light source so boo to the darkness)

We did awesome this year. Got some great deals and some cute stuff
(

thanks Mom for the loot

).

Enjoy!