This could possibly be the most difficult, but most fun I've ever had planning a party for one of my girls. We decided on this theme right after her messy party last year. (I didn't have a blog then but my friend keitha blogged about it
here
.)
We're cleaning streamers from trees, and scraping silly string from door frames, and she says "hey Mom, what about a glow in the dark party?" I thought it was genius, and it was a done deal.
Fast forward to one year later...the procrastinator in me that I try to bury deep within my uber organized, type a, alphabetising personality found her way out and decided she would wait until the month before to start planning. I mean, how hard could it be right? I'll have you know there is not one glow in the dark party on the internet for an elementary age kid. NOT ONE! There are ideas here and there and some "black light" parties for teens, but nothing "little" kid friendly. So I started my pinning, late night surfing, quest to put together ideas.
The party was last weekend and I'm still having people text me, or stop me while picking up my girls to tell me that it was the "coolest" party ever, and not to toot my own horn, but I have to agree it was pretty awesome! (thank you to my sissy who helped a ton in the kitchen. I would have been running around like a headless chicken without you.)
So here is the deets...in pictures. Enjoy! (I will say the only downfall to the awesomeness that is the glow in the dark party is it's very hard to capture in pictures...so just know that the coolness is magnified x 100)
The cake was iced white and sprinkled with glow in the dark glow beads I found at party city. Her shirt I appliqued for the party with a pink and white 6 that glowed perfect in the black light.
For entertainment we did two activities. First we made glow in the dark slime (the recipe can be found
here
) I set out each ingredient in kid friendly pour containers and marked each cup with how much and what should go in them. The kids loved it, and the slime was actually pretty clean. (bonus: It really did glow!)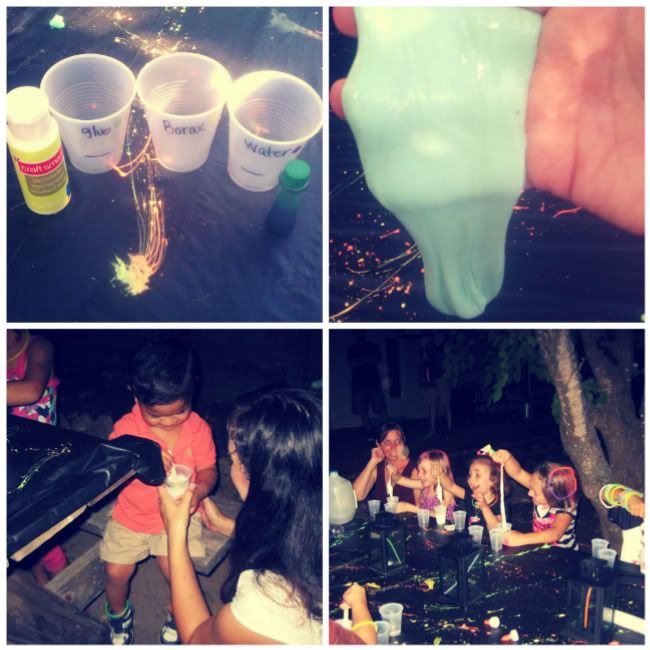 and, a glow in the dark scavenger hunt that sent them on a wild goose chase around the house looking for glowing eggs with hidden clues inside that read things like: you are getting close aren't you glad...some may call this person "Dad" (notice the poor Dad in the bottom right picture that was quickly regretting he volunteered to "help".) To make the eggs glow I found glow in the dark necklaces for Halloween at Party City, and just snipped the cord to make the beads individual..they worked perfect.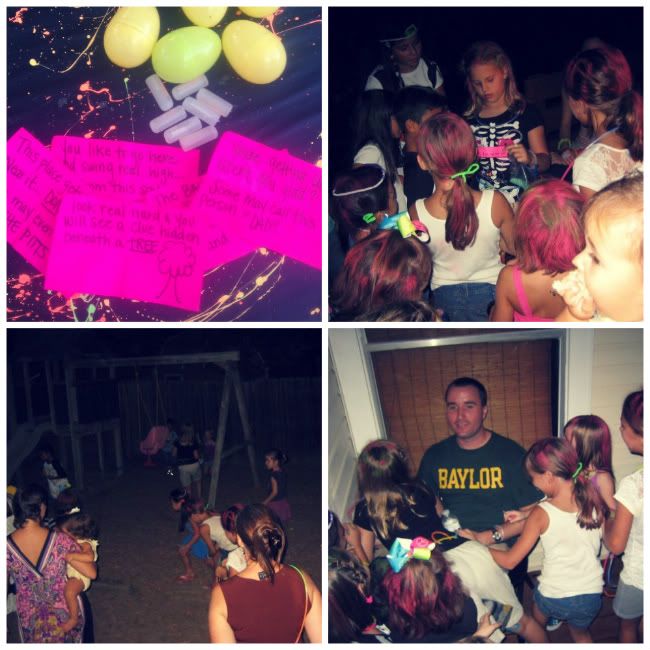 The invitations were simple...I sewed a neon colored mini bunting onto each one and outlined them in glow glitter, then snipped 2 slits on the side to slide in a glow stick (or 2 or 3 for children with siblings)It really got people excited for the party. Also some random decorations that actually "glow"...neon tissue poms, glow sticks in lanterns, neon colored bunting.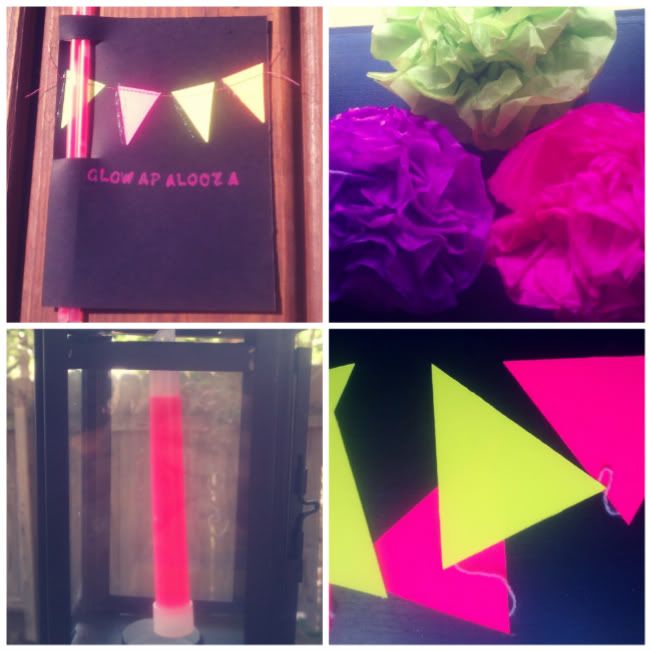 I also made my own glow splatter table cloths with neon paint and glow in the dark paint I found at Michaels. The party favors: A glowing bubble bath. I filled individual containers with kid bubble bath and added a few glow sticks so they could throw them in the water and turn out the lights. Fun fun!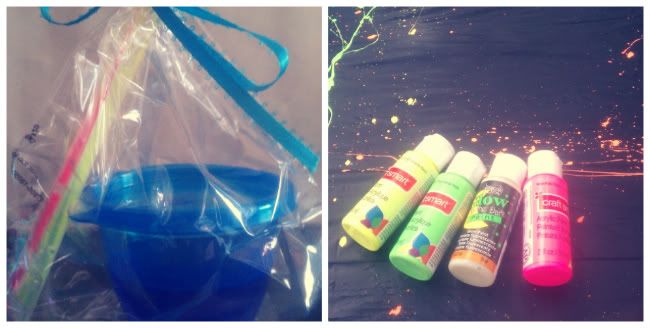 Inside I had 10 black lights, neon colored stars I cut out of poster board, a disco ball borrowed from a neighbor, and some lava lamps. I sewed ruffle streamers in white and hung them from the ceiling with the tissue poms in the center.I covered the floor with 200 neon mini water balloons I blew up. (found at the dollar tree 50 for $1) I also set out a table right as people walked in with glow sticks (about 250 of them) *Michaels is the best place to get them...only $1 and you get 15 (even cheaper than dollar tree), glow in the dark face paint crayons, fluorescent hair spray in pink and green, and 75 neon and white pipe cleaners. (they can make crowns, bracelets, necklaces or whatever and they glow perfect under the black light)The kids were really creative and I wish I would have gotten more pictures of their creations.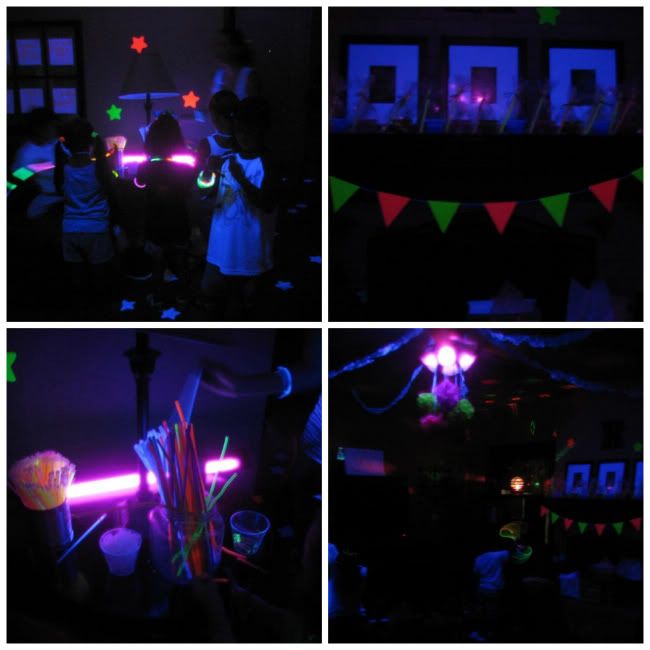 It was a glowin' good time!!