We have a long standing tradition in this family to make birthdays extra special. For me the day isn't just for them...it's also the day I brought them into this world. For that one day the whole world stood still and I witnessed the miracle that is their birth, and for that reason alone it is something to be celebrated in a special way.
My middle little turned 6 this week. She's so spunky and full of charisma and attitude. She brings the biggest smile to every one's face and says the most witty things like..."Mom if you are going to make Grandmas grilled cheese tonight, please make sure you use the fake butter." or "mommy, I think grown-ups can't see very good, and that is why they think they look fat when they look in the mirror." She truly is a child after my own heart.
What says special more than a hallway full of colorful balloons to greet you first thing in the morning?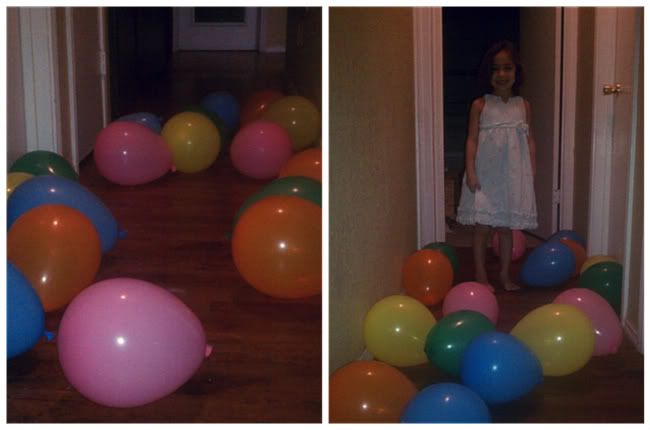 I saw
this
on what other than my favorite inspiration
site
ever and knew I needed to adopt this tradition. Note to self though: use paper and stamps that your kids won't recognize or you may be called out and have to come up with some ridiculous story to save the magic. Without further ado...the birthday beans.
We used spree candy as the beans and because I COULD NOT for the life of me find a big circle lollipop I had to go the "how old you are is how many lollipops grow" route.
Of course, I go to the
Dollar Tree Friday and they have a ton...so if you ever find yourself in a big lollipop pickle know you can go there and get one.
It worked though...and they are organic. (
to me organic lollipop sounds like an oxymoron, but whatever
)She loved it, and it was so fun to watch her run out to the yard all excited wondering what grew in place of her "beans."
I found the tutorial for her pipe cleaner birthday crown
here
. I whipped that sucker up so fast before she went off to school...it will make an appearance to other birthday special days I'm sure.(
i adjusted the tutorial a little to make it fit over her entire head and I secured it with bobby pins for the day
)
Our other tradition is you get to pick what you want to do on your "
actual
" birthday. She was dead set on ice skating. She had a blast...and lasted a whopping 45minutes on the ice.
It was a special day indeed. I retold her the story of the night she was born. How she wanted to trick Mommy into thinking she was coming booty first, and three days later, hours before being born decided the joke was up and flipped back the right way. How she took forever according to the doctor, and it being my second birth, and almost made me have a c section. Then to progress from a 5 to a 10 in only 45 minutes after i begged the doctor to give me one more hour. How I wore my hair in two french braids and circled complicated words on a crossword puzzle while listening to Daddy,Grandma and her two auntie's play cards in the corner of my room. The moment I remember most vividly though is her tiny body slipping out of mine, and the nurses laying her on my belly...i kissed her sweet sticky head, and knew she was going to be such a special addition to our family...that she is. She made her sister a sister, and she made me a mother of 2.
Love you, love you, love you, Ashy loo!
Birthday party details to come. My crazy, creative, full of spunk girl requested a glow in the dark party...Mama delivered.