One of my best friends wished me a happy momiversary Thursday. I can't believe I've been a mother for 8 whole years!
This little girl…who is not so little anymore, is blooming into the most beautiful young lady. She is the most responsible, kind, level headed, organized, caring little person I've ever known. She truly is one of the best things I've ever done in my life.
Her "day" was awesome. She requested the works ( I would have given them to her anyway)birthday beans, special outing, birthday crown, early school pick up,cupcake bakery, and dinner.
For her outing she wanted to go shopping. We slipped into the coolest stores, spinning racks for the "sassiest stuff". She walked around the mall with her bags resting in the crook of her arms, so proud of what she found. I couldn't help but tear up watching her act like a little grown up.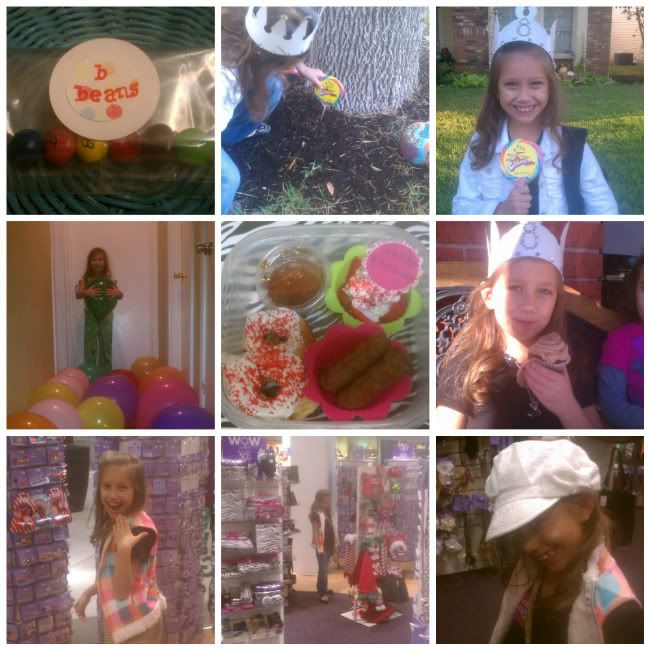 We shop together...how cool is that?
Of course...I told her about the night she was born. We were on our quiet drive home, by ourselves, and I told her about the Sunday night when I ate a bowl of Grandmas spicy tortilla soup. About how it made my belly hurt so I called the doctor and she told me to come in, and they decided that night that she would have to be evicted from her cozy home inside my belly. I told her how I was so worried about not being ready. She was a whole 5 weeks early, and I didn't have my bag packed, or her room finished. So, my Grandma, sister, aunt, and Grandpa worked tirelessly into the night cleaning, and washing tiny baby clothes, and putting together her special little room that was soaked in lilac paint, and had hand stenciled butterflies on the wall. I told her about how excited everyone was to meet her, and that she came into the world quickly, and perfect. I told her about the first moment I laid eyes on her and how her daddy and I cried happy tears. How my favorite picture in the world is of the moment they laid her in my arms, and her daddy was standing next to me with a happy tear at the end of his nose.
It was a good day, a happy day, a day we will never forget...it was the day we became a family.
Happy birthday sweet girl!