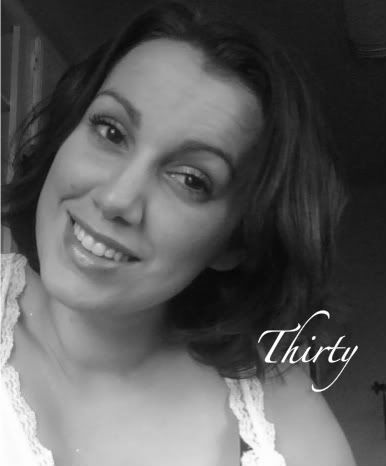 I'm thirty today...a very delighted thirty!
I'm excited to see what the next decade holds for this precious life of mine. I did a lot of living in my twenties. It was the decade I became a wife, a mother, (three times over) The decade I learned a lot about myself, and became comfortable with who I was, and what I wanted. As sad as I am to pack it up, I'm anxious (in a good way) to see what kind of woman I become exploring my three-oh's. Before I say good bye...I'd love to reflect. What did I learn in my twenties?
*Marriage is hard. It's harder to stay through the rough times, and leaving is easy. The choice to stay makes you just as strong of a woman as leaving does, but the rewards are great. My Dad once told me something that will stick with me forever..."You always leave thinking the grass is greener on the other side. You get to the other side and it's not until then that you realize you had it best right where you were."
*Motherhood is what I was meant to do. It makes me feel beautiful, important, "successful", special.
*I love a good red lipstick, heels, a pretty scarf, and a sweet smelling perfume.
*I care that people think I'm a good person, but I don't care what people think about: what I wear or where I shop, the way I mother, my life decisions, my faith,the kind of car I drive or how I decorate my house.
*I believe in being faithful not religious.
*My love language is the gift of service.
*Family is important to me, and I envy a family that still makes time for each other on a weekly basis when they have families of their own.
*You can't expect someone else to make you happy. Your own happiness lies within yourself. I choose happy!
*I am, have always been, and will always be a performer.
*I'd rather have a few really good friends than a bunch of superficial relationships. By really good friends I don't mean ones that I see every morning for coffee, or that call me every evening to chat about their day. They are the ones that are there...like high school ended 11 years ago, and we are still part of each others lives there. Or the girls that love your kids like they are their own, and call you up once a month to say "hey, lets have a girls night!"...there. I love my gal pals like family, and I couldn't imagine a life without them.
*I can't pay full price for anything...and the more I fall in love with "the treasure store" aka (the thrift store) the less I want to shop in an actual store. When you can get Bcbg,Michael Kors,Ann Taylor,and White House Black Market goodies for the price of a pair of socks at walmart...why not!?
*Speaking of clothes...I'd rather have a pared down closet of a few pieces I love than a closet full of a bunch of junk I never wear.
*I'm not into collecting "stuff".
*I have to sleep on the left side of my bed. Preferably with 3 or more pillows...one between my legs, one behind my back and two under my head. That's a lot of pillows!
*I'm a dog person.
*3 girls completed my fairytale family.
*On the topic of raising children...I believe the cheesier the better.
*I hate to be wrong.
*I'm non-confrontational, and I'm ok with that.
*I have a hard time saying no to people. I've learned just recently that my time is limited...I can't do everything for everyone. I'm not super-mom or super-woman, even if I pretend to be. That said...more than likely if you ask me to hem your pants, or melt your crayons into cute shapes for your classroom, or sew your child's costume even if mine aren't done I will probably say yes.
*I couldn't live without Google.
*I like a good old fashioned vanilla ice cream...no frills
*I truly hate to shave my legs more than I have to, and thankfully my husband still finds me sexy 11 years later.
*I need my Mom and sister in my life...everyday!
*I suck at keeping up with my social networking commitments. I forget to text back, email back, message back, call back,but I'm trying to get better.
*I'm a handmade gift giver. Not because I'm cheap, but because I find it hard to show someone how you feel about them, or that you put any special thought into a gift when you buy it from a store.
*I love any excuse for a party. Especially one that involves hanging bunting.
*I learned that God knew what he was doing when he paired me with David. Despite the very ups and very downs, we complete each other. Yes, he makes me crazy, but we have finally figured out how to
be
in each others lives, how to be friends, and how to enjoy each others company.
More than anything I've learned that everyday is a gift. I open that shiny box with satin ribbon every morning excited about the possibilities. Life truly is what
you
make it, and even if I don't succeed everyday at making it special, or fun, or exceptional...the beauty of life is you get a new gift every morning.
I hope you have learned to enjoy your gifts too...
Happy thirty to me :)