Isn't it funny how pictures can lie?
They can make a really gorgeous person look really unattractive. They can make a thin person look fat. That millisecond when the shutter opens and shuts can capture the tiniest of moments...forever. My favorite way that pictures lie this month...
making an atrocious vacation look amazing. I kind of feel bad that we even have these photos. As if we are committing sin by allowing them in our memory albums. When our children look back on this vacation 20 years from now they will be oohing and ahhhing over them saying "awww, remember when we went to Colorado?" "Look how much fun we had" "we should take the kids!" Hopefully they pick up the phone to call me, and I can tell them all about the insanity.
It was like a national lampoon vacation!
I personally call it "Murphy's" vacation. Everything that could have possibly went wrong did...minus the plane crashing (thank you Lord!), and I'm usually a glass half full kind of girl. I can pick apart a crappy moment and find something good in it, not this time. ( i take that back, we did get vouchers for our flight delay, and it was beautiful...that is all)
Our flight was scheduled to leave at 130 on Friday. Thankfully we got a text about 2 hours before our departure time telling us our flight was delayed, because we were running late...really late. 10 minutes later I got another text....flight delayed another 2 hours. Dave and I look at each other and say "ok, lets go eat then". We don't fly that often so I wasn't' sure what the rules were on being at the airport early even if your flight is delayed, so I called. The nice customer service rep regretfully informed me that we had to be there two hours before the original departure time. I regretfully informed her that that kind of sucked seeing as I had 3 children and all...one just happens to be a terrible two year old. So, the flight was delayed. check.
I'll try and make this quick, because really, who wants to hear about the vacation from "you know where"
Honestly now that it's all over I find it to be quite humorous.
We finally get on the plane a whole 4 hours later. After waiting tirelessly in a cold, loud, crazy boring airport...with 3 kids. We board, super excited. I personally wasn't excited about the ski part, but I was really excited about the snow part. We are from Texas. Snow here is a 2 foot snowman max, and that is stealing snow from the neighbors yards.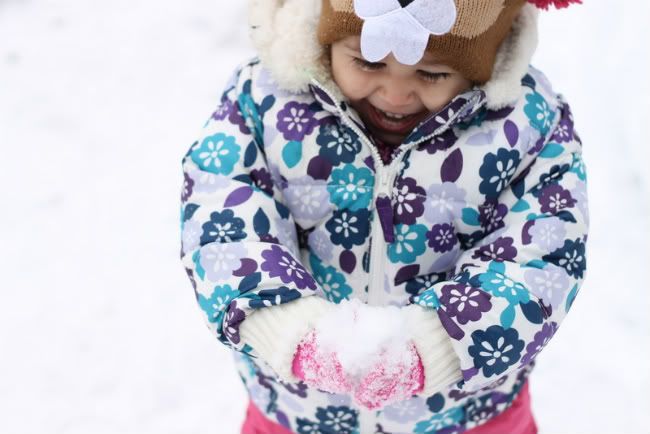 The flight went well. We have fabulous little travelers. Not to mention we get 5 seats so no one really ever wants to sit in our row so we usually get it all to ourselves, which means I kick 3 of them to one row while I sit with the baby in mine, and let her sprawl herself out on two seats to sleep.
Did I forget to mention that my 6 year old had to be picked up early from school that morning? Because she had apparently caught the 24 hr stomach bug that wrecked havoc on the entire kindergarten class all week. (cause that is kind of an important point). Anyway, back to the story...
We landed, 5 hours later then scheduled. In a massive airport that requires reading signs, and taking trains to get to baggage claim. (which is incredibly frustrating when you are so tired of being in an airport) We get our luggage. Take a shuttle to the car rental place, only to realize that we left our car seat on the turnstile at baggage claim. Ya know, the baggage claim back at the airport. The one you have to take a shuttle to get to!
So I send Dave, and attempt to handle the car rental situation.
Only to find out that our car situation isn't working out so well. The car that I'd pre paid for over a month prior is a no go! So here I am 6 pieces of luggage, 2 kids, too late at night, bawling at the Budget counter cause they have nothing for me. (including my refund until 3 weeks later)
So I wait, break the news to dave (who wants to cry himself), they offer to take us to another car rental place, we pack up, go and finally an hour in a half later lose some cool points climbing a mountain in a purple-ish Toyota mini van.
So, there we are. 3 kids, a purple mini van full of crap, climbing a mountain, when Dave's tooth starts throbbing from the pressure. Ears are poppin, tires are spinning from ice patches on the road....he won't even let me listen to the radio because of how stressful the drive is.
We finally arrive at our resort. it's 1 degree (it was 81 when we left Texas). We unload the car and head to the elevator...only to realize the elevator doesn't stop at our floor. Our only way to our room is by taking two flights of stairs!
I don't know if you have ever been to Colorado, but you can't breathe. In Austin we are 450 feet above sea level. In Keystone you are 9,500 feet above sea level at the base of the mountain 12,000 feet at the top. I might as well have been on Everest! We are huffing and puffing our way up, carrying sleeping children, and excessive amounts of luggage, incredibly exhausted from a long day of travel, wanting to get to bed so bad. I lay my head down...close my eyes to finally sleep when I feel my heart racing out of my chest. It's freaking me out to the point of panic so I sit up pace a little bit and then lay back down, try not to think about it and go to sleep.
The whole trip was this way...I could. not. sleep. It wasn't until the third night that I realized I wasn't having panic attacks. It was altitude sickness.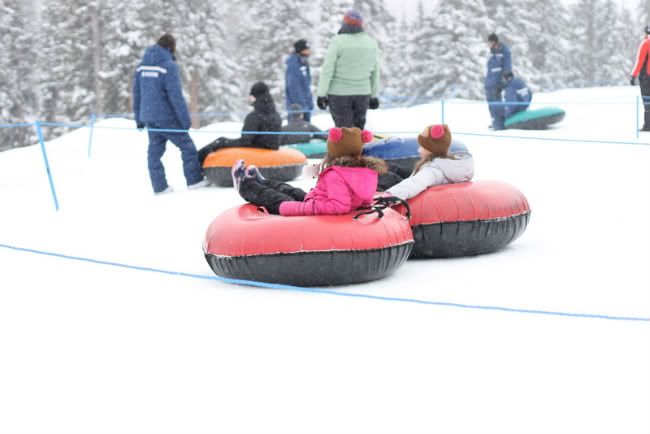 Come day 2 we decide to try and brave the mountain. They had tubing at the top and the girls were excited to try it. We take the gondola ride up about 1500 feet, and it is blistering cold, windy, and just unbearable for our Texas girls. We paid for an hour, but they lasted 30 minutes. So we start to make our way back down the mountain, Ashlyn our middle daughter ( the fashion diva) is screaming in pain. She refused to wear her "ugly snow boots" and insisted on her rain boots with double socks. Well, snow got in, and on the ride down her feet started to thaw out and she was in excruciating pain. Dave takes her shoes off and puts them under his shirt to warm them, he takes them out of his shirt to take a look, and they are sausages! No fun!
We head back to our room for some quiet, tic tac toe, and hot chocolate, and Dave heads back to the mountain to ski.
It was maybe an hour or so later when he comes strolling in the condo complaining of nausea. (you can guess where this is going right?) from day 2 till he landed on Texas soil he was riddled with unrelenting altitude "sickness" (sparing you the yucky details)
Lets just say I started packing to go home 2 days early, because I was so. ready. to . go! I will say it's beautiful. Insanely gorgeous in a indescribable way, but the altitude is just not for me. I belong at the beach, sweating in a cute swimsuit, cold beverage in hand.
Then, there was the flight home. The one we missed. Everything just took way too long, and we underestimated the time it would take to do everything. Pack up, gas up, drive the hour to the car rental return, inspect, hop on a shuttle, wait for everyone else to hop on the shuttle, get off the shuttle, check in, go through the longest security line I've ever seen, and then try and make our flight that left without us on it two minutes before we got to the gate.
I always wondered what standby was. Now I know. We sat around for hours waiting for spots on a flight. Dave and Alyssa got the first slots. Him being sick, and her having a school program that night I volunteered to stay behind with the two little ones. We didn't get home until 6 hours after them, but thankfully we got home.
I will say...there was one highlight of our trip. By the fourth day I could breathe a little better so i stopped at a local grocery store and picked up these plastic flying disc looking things. I was determined to have a little fun so we found a small hill close to our condo and decided to try sledding/sliding, and by golly that was the most fun 2 hours we had our entire trip. This video...it will be remembered.